We featured our favourite sunrooms earlier this month, so it just seems right to get into our dream decks in the same heartbeat. What's not to love about an outdoor deck? They're perfect for taking a load off and watching the sun set at the end of the day, they're great for hosting parties, they're great for just about anything at all! While the humble deck is quite simple in theory, tweaking the basic design can have some eye-pleasing results. Here are a few of our favourites:
We love the planter incorporated into the curved bench. The shape of the bench is perfect for intimate gatherings of a few close friends or family as it gently coaxes you all into facing one another. As for the planter, you can get creative with that one – for minimal fuss, go with succulents that require little to no watering. For the farmer in you, planting herbs such as basil or parsley are simple and provide you with delicious additions to any meal all year long. If you're a bit of a green thumb, we recommend planting carrots – they're much better than store-bought for Sunday roasts!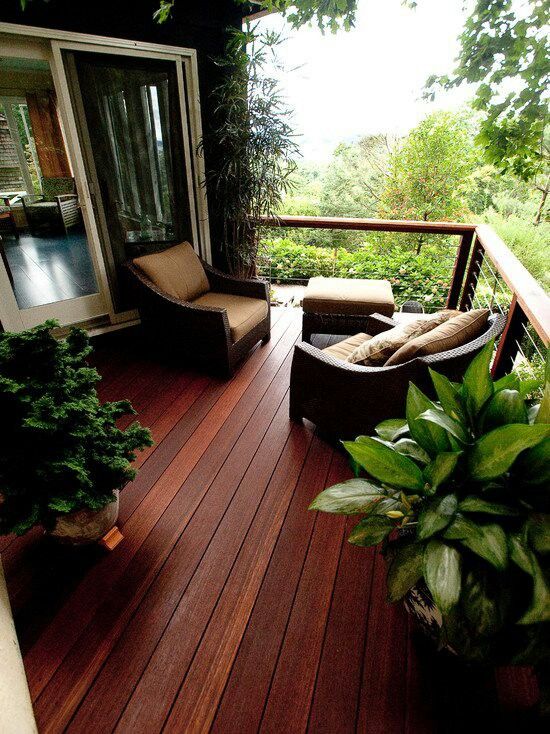 Image via http://www.pinterest.com/pin/112941903128057360/
This lush deck makes us feel like we're right in the middle of the rainforest! It might have something to do with the green surroundings, but it's definitely aided by the deep deck stain, wooden furnishings and large, leafy pot plants.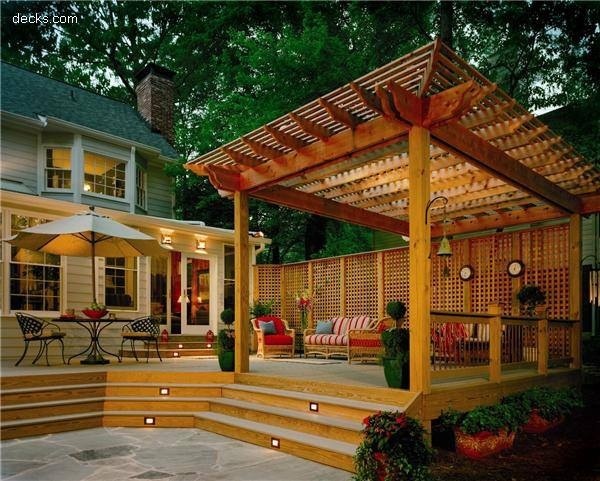 Image via http://www.pinterest.com/pin/462956036665287158/
Great use of space here. The owners have designed this deck to be all-purpose – a table, chairs and umbrella for quiet breakfasts, a lounge set for reading books and entertaining, and a pergola to filter the sunlight through on especially bright days. We've also noticed how well the lighting is placed, ensuring there are no dark corners when the sun goes down.

Image via http://www.pinterest.com/pin/554857616561683372/
This image is easily competing for first place in our hearts – this standalone deck has a pool incorporated! While we're not sure that there are many backyards in Sydney that are equipped for this kind of installation, that doesn't mean we're afraid of being proved wrong!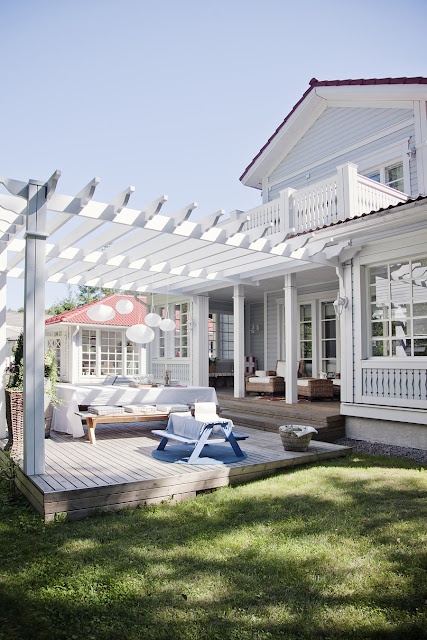 Image via http://www.pinterest.com/pin/283163895291542511/
We're enjoying the pared-back look of this deck. While whitewashing is not all too common, it works well here, complementing the pale hues of the house. The pergola really sets off the design too, making it perfect for meals outside.
If you're feeling inspired, check out our tips on decks and pergolas here.
Meta: If your backyard is looking lacklustre, check out our dream outdoor decks to lounge on!
Related Tag: Outdoor Blinds

Kevin Pobjie grew up in Sydney and started working in the home improvements industry over 30 years ago. He is married with two children, one boy and one girl, 24 and 20. Kevin started selling awnings, pergolas and sunrooms using Hunter Douglas and Stramit before he started Wizard Home Improvements in Granville in late 2004. He is now licensed by fair-trading to build awnings.