Outdoor decks are a great place to keep plants if you're low on leafy trees in your backyard. Pick the right plants and watch your outdoor entertainment areas flourish. Here are eight of our favourite deck and patio-friendly plants – all of these grow best in in full sun and moist, but well-drained soil:
Angel's Trumpet
Depending on the variety, an angel's trumpet blossom can grow to around 30 centimetres! Definitely creates an impact when gazing upon it from the patio. The plant grows to 2 metres or more.
Angelonia
Otherwise known as a snapdragon, this plant will happily flank any outdoor entertainment area, blooming purple, white or pink flowers all summer long, no matter how scorching a summer it is. Grows to around half a metre or more.
Bamboo
While it has a reputation for spreading across the land quickly when planted in the ground, when restricted in growth (such as being planted in a large container) it has a dramatic effect, especially in backyards that may require a bit of added privacy. Can grow up to 10 metres or more.
Mandevilla
A fast growing climber, the mandevilla produces large trumpet-shaped blooms in red, white and pink. This vine would complement the angel's trumpet nicely, and climbs to about 5 metres or more.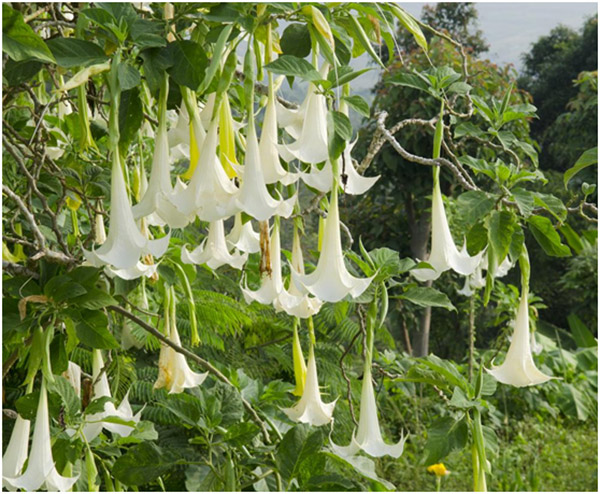 Passionflower
One of the most captivating climbing vines, passionflower bears complexly unique blooms in almost every vibrant shade of the rainbow. It's a butterfly favourite, turning your outdoor entertainment areas into an urban oasis! Climbs to about 5 metres or more.
Pentas
The pentas appears modest at first, but come summer time produces clusters of starry red, white or pink flowers. Like the angelonia, the pentas will bloom all summer long, no matter how hot it gets! Another plant loved by butterflies. Grows to around half a metre or more.
Plumbago
This shrub-like piece of flora is actually a vine, growing quickly and blooming sky-blue flowers all summer long. Yet another butterfly favourite, the plumbago is sure to add a cheerful element to any decking area. It climbs to about 5 metres or more.
Sky Vine
This fast-growing vine stays true to its name, sprouting large sky-blue flowers throughout the summer. The dramatic effect of the sky vine is ideal for any leafy outdoor entertainment area, and looks particularly striking growing around a pergola. The vine climbs to about 8 metres or more.
Enjoyed this post? You may also enjoy this post on using your deck as your home office
All images via Shutterstock.
Related Tags: Best Outdoor Blinds Sydney

Kevin Pobjie grew up in Sydney and started working in the home improvements industry over 30 years ago. He is married with two children, one boy and one girl, 24 and 20. Kevin started selling awnings, pergolas and sunrooms using Hunter Douglas and Stramit before he started Wizard Home Improvements in Granville in late 2004. He is now licensed by fair-trading to build awnings.